Ensemble Recordings
Solo Recordings
Geminiani: Sonatas for cello and continuo Op. 5
Biber Passacaglia
Geminiani: Sonatas for cello and continuo Op. 5;
Handel: Suite V for harpsichord in E major
The Four Nations Ensemble,
Loretta O'Sullivan, Andrew Appel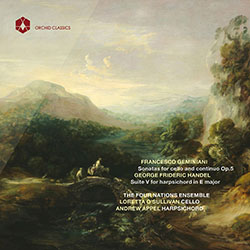 EMAg review - December 2015
Geminiani Cello Sonatas

"the players allow Geminiani's unique lines to take shape, to the frequent surprise and delight of the listener. The opening Andante feels as if Loretta O'Sullivan were singing through the cello, while in faster, more ornamented movements, the collaboration between the cello and harpsichord is unified and witty...highly recommended"
— Karen Cook

Click here to purchase the CD and to hear sound clips

VIDEO:
To hear the live video performance of Geminiani's Sonata No. 3,
please begine watching at 23:40.